"Christmas" doesn't have to equal "depressing."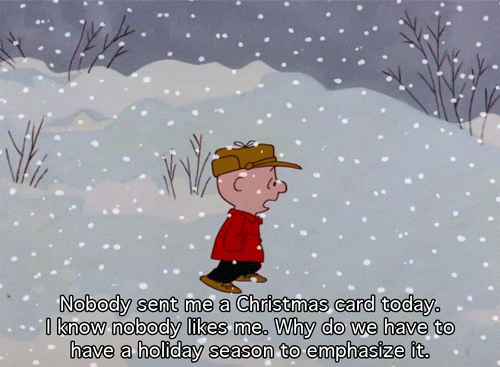 It's that time of year, when many of us exist in tension between the ideal Norman Rockwell, Irving Berlin, and Hallmark versions of Christmas we're told we should be experiencing and the stark reality that the holidays can be anything but happy. Now, I recognize the value of holidays in reminding us how we got here and what's important. But in our commercialized society, throwing a little tinsel and the newest popular Christmas album and a hundred themed movies, books, etc. at one day in the year and declaring it "the most wonderful time of the year" is just setting us up for disappointment. All the wrapping paper in the world won't make our dysfunctional family any prettier, or our issues at work any easier, or our money problems any less stressful.
Not to be all negative, but rumor has it that there's an uptick in suicides this time of year. And I think it's pretty clear why: we build up all these expectations, and then when life still sucks, and we're still stressed and lonely, and maybe we're missing loved ones (in the past two weeks I've heard about so many friends with family who have just passed away or will very soon), and none of the holiday glitter produces anything of substance to hold onto - well, we think, what's the point? And understandably so.
Even as a kid, I used to get a bit depressed at Christmas. After all, other than a different schedule and giving each other a bunch of stuff, what was different about Christmas than any other day? I spent the day with a family characterized by our inability to be civil for long periods of time, in the same tension from the top down I chafed under the rest of the year. The haphazard laughter and the too loud, too cheerful voices were just as much a denial of reality then as at every other time. I still hated the facade, even though I wouldn't be able to explain why for a long time. Christmas was just another reminder that things were not the way they were supposed to be. And no matter how much I tried to make the best of the situation, it always disappointed.
I thought I'd come a long way since freshman year, when I had to explain to my roommate why I didn't want to go home for Thanksgiving. In reality, I've had ups and downs, and last week I had to admit that I was, once again, avoiding the problem instead of dealing with it. In the past two years of living at home because of my health, I let bitterness build up again. I got angry at the people I love and the circumstances I belong in because I can't change them. I started dreading Christmas break because I knew I couldn't just hide from everyone the whole time, and I would rather hide than deal with them, because in order to do right by them, I would have to change.
However, I've come to see that change within myself is the best solution. With spiritual guidance, I can let go of my self-centeredness. I can become a better person. I can change my perspective. And opening the lens a little wider lets more light into the picture. Believing that where I am is where I'm supposed to be and that it has a purpose not only lets me accept what I can't change. It helps me embrace the present that's building my future.
On Monday, I turned in a paper that started bringing together several topics I've had on my mind lately, regarding love, family, loneliness, and acceptance. I've always known I wanted to write a book someday, and as I mentioned in a previous post, the tension between aloneness and community seemed like a possible topic. But in my paper, I dug even deeper into the reasons why we always feel like we're "looking for love in all the wrong places." And I've realized that turning my family (even an individual member) into a real-life Christmas card is not the right goal, much less an achievable one. The point of the struggle may be that I learn to be okay with a frustrating situation because I can find stability and love elsewhere. And every unmagical Christmas reminds me that I can be happy no matter who's being difficult that day.
I don't shy away from long blog posts (even if I do get a little self-conscious), because sometimes you need extra room to say what you need to say. So I'm going to include my paper below to explain what I'm talking about. It's fitting for Christmastime, because it shows why the incarnation of Jesus lets us know the relational satisfaction we long for, whether we're alone or with people. The conclusions are based on my position that the Bible is God's Word (the class was an interdisciplinary theology/theater arts class), so it's more overtly theological than most of what I write on here, though it also draws on communication theory and a little bit of cinema. The paper ended up being more of an overview than I expected, but digging into these root ideas and their broad applications has already helped me look at my circumstances with fresh eyes. Maybe you'll find something to encourage you this holiday as well.
Learn to Be Lonely: The Incarnation and Relational Communion
The 2004 movie adaptation of The Phantom of the Opera ends with a song that was not included in the original musical, but written for the movie credits by Andrew Lloyd Webber and Charles Hart (Learn). The song, entitled "Learn to Be Lonely," features haunting lyrics, sung wistfully by Minnie Driver, which address a universal human experience:
Child of the wilderness, born into emptiness – learn to be lonely; learn to find your way in darkness.

Who will be there for you? Comfort and care for you? Learn to be lonely; learn to be your one companion.

Never dreamed out in the world there are arms to hold you.

You've always known your heart was on its own.

So laugh in your loneliness, child of the wilderness. Learn to be lonely; learn how to love life that is lived alone.

Learn to be lonely; life can be lived, life can be loved alone (Webber & Hart).

In the context of the story, these lyrics portray the struggle of a person who is an outcast in society and has lost all hope of finding human companionship and love. But the words strike a chord with those of us who have no such drastic disfigurement, who may appear in every way to be normal. In fact, the sense of being alone in the world, never truly understood and never truly loved, is a common experience. As we will see later, a biblical worldview suggests that this loneliness has been felt to some degree by nearly every person who has ever lived, but it is not a universal truth so much as a universal misunderstanding.
Communication theory provides descriptions of the behavior we engage in while attempting to negotiate this loneliness. Leslie Baxter and Barbara Montgomery developed the theory of Relational Dialectics to describe how all relationships exist in tension between three pairs of opposing values: Integration and Separation, Stability and Change, and Expression and Nonexpression (Griffin, 153-56). Each dialectic is further reduced to an internal and external dialectic, describing a tension between the two parties or a tension between their relationship and the community (Griffin, 156). Because we normally counter loneliness by attempting to connect with another individual, two of the internal dialectics are most relevant to this discussion.
The internal dialectic of Expression – Nonexpression consists of a tension between Openness and Closedness (Griffin, 156). The two persons in any developing relationship (whether romantic or Platonic) are caught between conflicting desires, simultaneously wanting to reveal more of themselves and wanting to keep parts of their lives and identities out of the other's reach. This tension directly fuels another: the dialectic of Integration – Separation, which manifests internally as a struggle between Connection and Autonomy. By definition, a friendship or romantic relationship requires interdependence, since the two members view themselves as co-contributors to an entity that cannot exist without both of them. However, each member seeks to retain his or her individual identity and may prevent the development of too much interdependence by withholding information from the other, choosing Closedness.
These descriptions of relational behavior are easy to recognize in our own relationships. However, from a logical viewpoint, a contradiction arises: if we are seeking to reduce our loneliness, why would we deliberately limit how much companionship we can experience with someone else? True, we may not wish to become close with everybody, but we often keep the people we love most in the dark about certain parts of ourselves, putting up barriers to separate us and minimizing the obligations we have to them. If loneliness comes from a sense that no one truly understands us and cares about us for who we are, it would make sense to reveal as much as possible about ourselves to those who show promise for loving us the way we long for. Why don't we? I would like to suggest a hypothesis for the ultimate tension each human being experiences in relationships with others:
We want to be known and loved for who we really are, but we cut off every opportunity which might lead to complete knowledge of ourselves by others, God, or self, because we fundamentally fear that our true selves are too horrific to evoke anything besides repulsion.
God has designed humans to be creatures of community. Individuals need different levels of interaction-free time to reenergize, reflect, concentrate, and create; however, even these actions find their relevance and meaning as they enable us to obey the two greatest commandments: love God above all else, and love our neighbor as ourselves. In Eden, God declares that "it is not good that the man should be alone" (Gen. 2:18 English Standard Version), which is, Henri Blocher points out, "'the only negative assessment in the creation narrative, and it is emphatically negative'" (Clark & Johnson, 216). This is because humans are made in the image of God, and because God is a tri-unity of persons, we can never fully reflect his image unless we are in communion with other persons. "Once Eve was present, humanity was able to reflect the personal and relational intimacy that God is. Eve's presence meant that humanity could experience life-giving interpersonal penetration and indwelling, a finite and temporal echo of God's triune, perichoretic [intensely intimate and unified, see p.66] life" (Clark & Johnson, 217).
In marriage and singleness, in friendship and family, we are drawn to form relationships with people over and over again, seeking the unity and community we were designed to thrive within. However, community comes with costs. In a perfect world, love would never be tainted with self-interest. But in this world, each of us is corrupted from the inside out, and without divine regeneration of our motives, we will attempt to love other people only when doing so would seem to benefit us. In the words of Jesus, "For if you love those who love you, what reward do you have? Do not even the tax collectors do the same?" (Matt. 5:46).
Because of our universal corruption, those who are responsible to love us do so imperfectly. Parents alienate and disappoint their children, and children do the same in return. Friends painfully betray friends. Dating couples date and break up for selfish reasons. As children, we think people will generally behave the way they "ought to," but the most striking memories of the maturing process are often the times when people let us down. This usually occurs in the context of sharing personal information or important parts of our identity. When our person is rejected, intentionally or unintentionally, we feel attacked, betrayed, victimized, vulnerable. We question our worth. We find separation where we had sought connection. We experience an identity crisis as we are cut off from the community in which we were meant to live. And we learn to be cynical about who we trust with ourselves.
Over and over, all our relational disappointments teach us one thing: we're not worthy of unconditional love. People tend to step away at the first sign of a flaw, habit, quirk, or social disqualifier they can't stand. Those who know us best repeatedly reject what we reveal to them. And this simply fuels the sense of guilt that comes with our sinful nature, knowing we can never measure up. In fact, this guilt is the ultimate reason we begin protecting ourselves from criticism. We stop sharing the most important parts of our identity, and we run from honest disclosure of our flaws, because when others see the truth about us, they react with disapproval or disgust. We can't stand such violent rejection because at the core, we're afraid it's justified. We're afraid that one day, all the fig leaves we've collected will come off, and we will stand naked and ashamed, repulsive to all including ourselves. The complete knowledge necessary for complete love is our worst enemy if it reveals something too horrible to ever be loved.
This is where the incarnation of God the Son comes in. Jesus, partaker of the perfect knowledge and perfect love of the Trinity, became human in order to share that love with humanity. He hung naked on a cross, wearing nothing but every sin we have ever committed, and became so repulsive that the Father could not look on him. He experienced the most humiliating physical and spiritual rejection anyone can experience to redeem us from our shame. His nakedness returned dignity to our bodies and clothed them with righteousness, that we might be fully accepted into the presence of the Father. He came to know the worst parts of us, the parts we don't dare admit to anyone, the parts we live in denial of, and he responded to complete knowledge with all-encompassing, overwhelming love. "The goal [of knowing] is no longer comprehensive, mystery-eliminating, reality-denuding information. The goal is communion – the communion of knower and known. Communion is the fulfillment of love" (Meek, 21).
Yes, we are too horrible to be worthy of love by a holy God, but the love that God placed on us by taking our worst sins on himself restored our worth. "[H]is love knows no bounds. There is no condition of ours, however humiliating and shameful, that God will not suffer to bring us forgiveness, healing, and peace" (Clark & Johnson, 231). We have no need of bolstering our self-esteem or cultivating self-love to fend off the rejections of other people. The Creator of the Universe, the Judge of all the Earth has declared us lovable, precious, and worth dying for.
And the knowledge and love are not only on his side; when he declares us righteous, he invites us into fellowship with the most intimate, satisfying love-knowledge-relationship in existence: the Trinity. Jesus took on a human body for eternity and proved that our bodies do not confine our knowledge to the physical realm. We can take part in transcendent communion with God while in the body, because we have been raised with Christ, and our souls (and, one day, our new and perfect bodies) exist with him in the presence of the Father.
"But God… because of the great love with which he loved us, even when we were dead in our trespasses, made us alive together with Christ… and raised us up with him and seated us with him in the heavenly places in Christ Jesus, so that in the coming ages he might show the immeasurable riches of his grace in kindness toward us in Christ Jesus" (Eph. 2:4-7).
Shortly before the sequence of events that led to his crucifixion and resurrection, Jesus prayed to the Father in words that would sum up the end purpose of our salvation:
"That they may all be one, just as you, Father, are in me, and I in you, that they also may be in us, so that the world may believe that you have sent me. The glory that you have given me I have given to them, that they may be one even as we are one, I in them and you in me, that they may become perfectly one, so that the world may know that you sent me and loved them even as you loved me" (John 16:21-23).
When we are one with Christ, one with the Father, and one with the Spirit, we exist in the perfect communion we were designed to crave from the moment our life began. In such a relationship, which we will fully realize when we see God face to face and "know fully even as [we] have been fully known" (1 Cor.13:12), we are never truly alone. Even in prolonged solitude, even when our friends reject us, we can be content without learning to be lonely. As Jesus told his disciples, "Behold, the hour is coming, indeed it has come, when you will be scattered, each to his own home, and will leave me alone. Yet I am not alone, for the Father is with me" (John 16:32). As he is with all of us who have surrendered our shame to his dignifying, life-giving love. 
Resources
Clark, J. C., & Johnson, M. P. (2015).
The Incarnation of God: The Mystery of the Gospel as the Foundation of Evangelical Theology.
Wheaton, IL: Crossway.
Griffin, E. (2012). Relational Dialectics. In
A First Look at Communication Theory
(Eighth ed., pp. 153-167). New York, NY: McGraw-Hill.
Learn to Be Lonely. (2017, November 27). Retrieved December 10, 2017, from
https://en.wikipedia.org/wiki/Learn_to_Be_Lonely
Meek, E. L. (2014). Love.
In A Little Manual for Knowing
(pp. 13-24). Eugene, OR: Wipf and Stock.
Webber, A. L., & Hart, C. (2004). Learn to be Lonely [Recorded by M. Driver]. On
The phantom of the Opera: the original motion picture soundtrack
[MP3].
Comments