You may call me H.M. - Half Macro or Howling Mad :p
It's Friday! Just had to share this ridiculous GIF: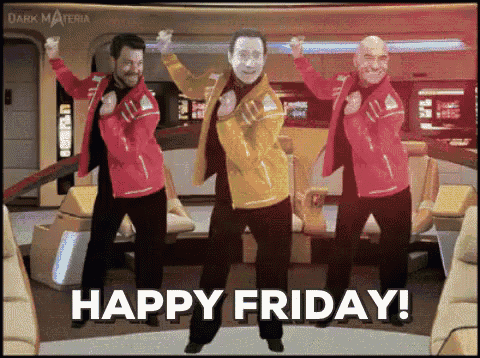 So, what have I done this week?
First, let us review the week's goals:
1) Make eating proportions about 40% whole grains, 40-50% vegetables.
2) Incorporate round vegetables, root vegetables, leafy greens, and beans.
3) Supplement with fermented foods.
I've been trying to keep breakfast and lunch as macro as possible while letting supper have a little leeway. This seems doable with some planning, so I will keep attempting this until it becomes systematic.
This week I found out how very few vegetables I eat on a regular basis nowadays. I had to go to great lengths to get anything close to 40-50% vegetables. Last night, I had gone most of the day without much appreciable vegetable intake, and the most palatable way I could think of to eat vegetables was onion rings. Instead of going out and picking some up, my dad and I cut up an onion, tweaked a recipe from online, and fried them ourselves in peanut oil. They were some of the best onion rings I've ever had. Maybe not the ultimate "healthy" solution, but it worked, and was a lot better than fast-food onion rings fried in mystery oil, etc.
Another thing I tried was turnips roasted with ginger. Let me just say that the flavors of turnip and ginger together are not my favorite combination. It's palatable, but barely. Whenever I cook my last turnip, I'll try some other flavoring; maybe soy sauce, which masks some of the pungency (can I use that word for a taste?).
A couple days ago I soaked and boiled chickpeas, and they lasted me through today, where they made up about a third of my lunch. Contrary to popular opinion, home-cooked chickpeas are delicious when eaten plain, even room temperature or chilled.
This week, I had black-eyed peas, green beans, carrots, onions, cabbage, turnips, chickpeas, and a little potato. The cabbage seemed to create some discomfort in my system the several times I tried it, but I'm not sure I cooked it enough.
The fermented foods I had included a little sauerkraut on Sunday and miso a few times throughout the week. I really want to try miso soup from scratch at some point, but due to a prolonged subscription, I have a lot of instant packets to finish.
I had whole grain brown rice through yesterday, and most of my breakfasts consisted of rice cakes and whole grain bagels or toast.
After this week's experience and getting into my new class schedule, here are the things I need to do for next week:
- Assemble a greater variety of vegetables
- Plan some easily assembled lunches and snacks to pack (whole grain veggie wraps?)
- Get some kind of fish to add protein, oils, vitamins
- Get sesame seeds to try making Gomachio
- Get pumpkin seeds to snack on
There is still a long way to go, but this is a start. Building a new system from the ground up.
Oh, and I tried applying a ginger compress yesterday. It is very hard to do on yourself, especially when you have to keep running back and forth between the kitchen and your room at opposite ends of the hallway, because the kitchen is where everyone enters the house, so you cannot spend time there without sufficient clothing (plus there were others at home). I'm not sure it was the best job ever done, but it seemed to sort of work. Then again, it's hard to tell. I may try it again when I have a little more time alone at home. Despite the shuttling, the whole process was actually relaxing.
Still trying to work up the courage to write the next chapter of RoS2. I'm worried that the conflict has not developed properly to this point, and may require more development than I want to do. I think I'm going to start at the beginning and read the entire story so far to get the comprehensive view again and feel the rhythm of the plot. Sometimes that helps.
Well, a friend recommended I try yoga. I don't really have time or extra finances to spend on classes, but I found a highly rated virtual yoga instructor app (4.9/5 stars) and tried it out, and it really helped to stretch me... literally. Going to try it again before a shower and hopefully bed. Was half asleep all day today since I'm still inching towards a more reasonable schedule.
Comments
Posted 09-02-2017 at 10:56 AM by

Flygirl